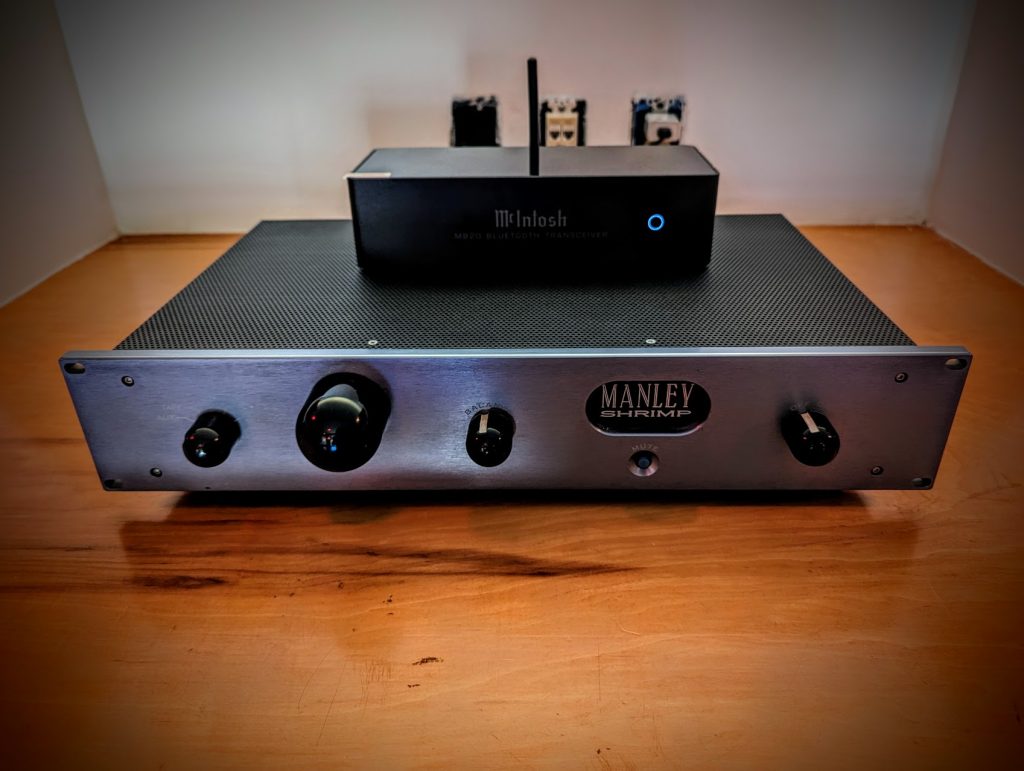 Great Condition Manley Shrimp Tube Preamp
Very short, simple minimalist signal path. All-tube design. 2 x 12AT7 + 2 x 7044

Generous energy storage via large power supply capacitors for more impact in the bass.

No global feedback makes the Shrimp very fast sounding.

Non-inverting two-tube gain stage is direct-coupled for most pure signal path.

Cool White-follower output stage provides low 50 Ohm output impedance. This is much better than a boring plain ol' cathode follower. The Shrimp can drive anything, not to worry.

Filament supply floated 80V above chassis ground for quieter operation and longer tube life.

NOBLE audiophile-grade level and balance pots. We use the nice parts in here!

MIT/MultiCap polypropylene audiophile-grade signal coupling capacitors, including two 30 uF monsters on the output stages.

Warm-up delay / MUTE button. Features and quality components usually not found on entry-level pieces.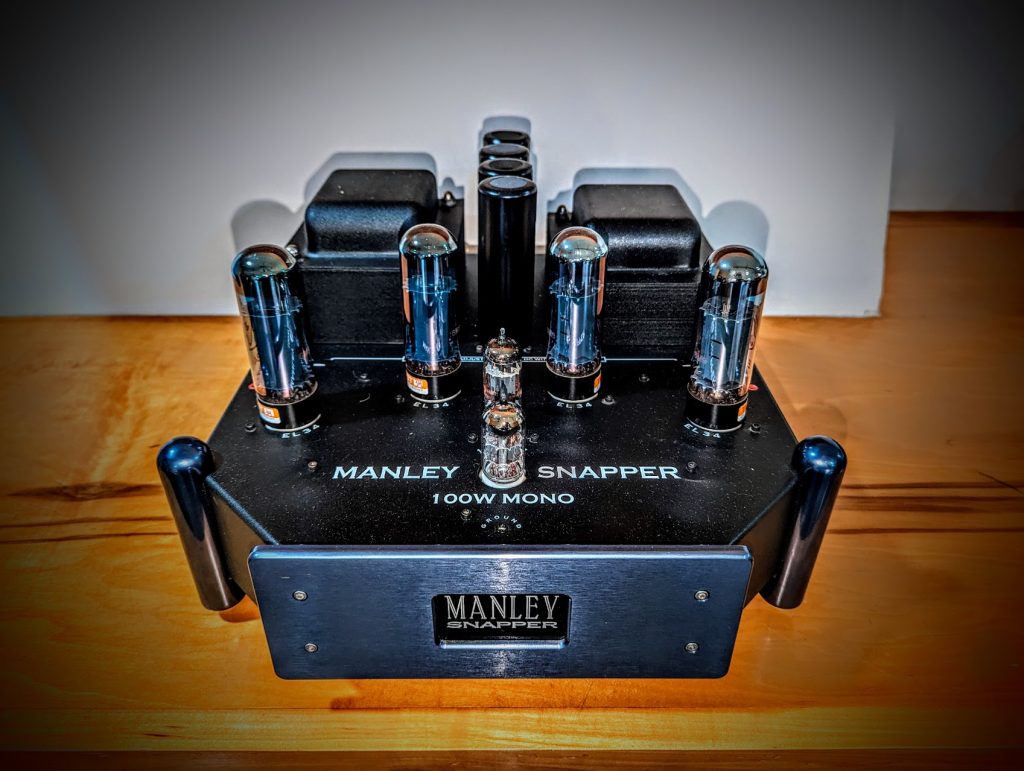 Pair of amazing Snapper Tube Amps. All Brand new JJ Tubes with Blue Glass
Input Impedance RCA: 475 Kohm

Input Impedance XLR: 15 Kohm or 600 Ohm switchable

Input Sensitivity RCA: 750mV input = 110W output

Input Sensitivity XLR @ 15Kohms: 1.5 V input = 110W output

Input Sensitivity XLR @ 600 Ohms: 2.4 V input = 110W output (w/600 Ohm source)

Gain RCA: factory set for 31 dB; Range = 29.5 to 34.5dB

Gain XLR: factory set for 25 dB

Negative Feedback: factory set for 9dB of global NFB

Maximum Output Power into 5 Ohms: 110 Watts (1.5% THD @ 1kHz)

Maximum Output Power into 8 Ohms: 100 Watts (1.5% THD @ 1kHz)

Signal to Noise Ratio Ref. 1W: Typically 90 dB A-WGT 20-20K

Noise Floor: Typically 105μV = -77dBu A-WGT
                    Typically 388μV = -66dBu unweighted

Dynamic Range: 98dB

THD+noise @ 1W: less than 0.1%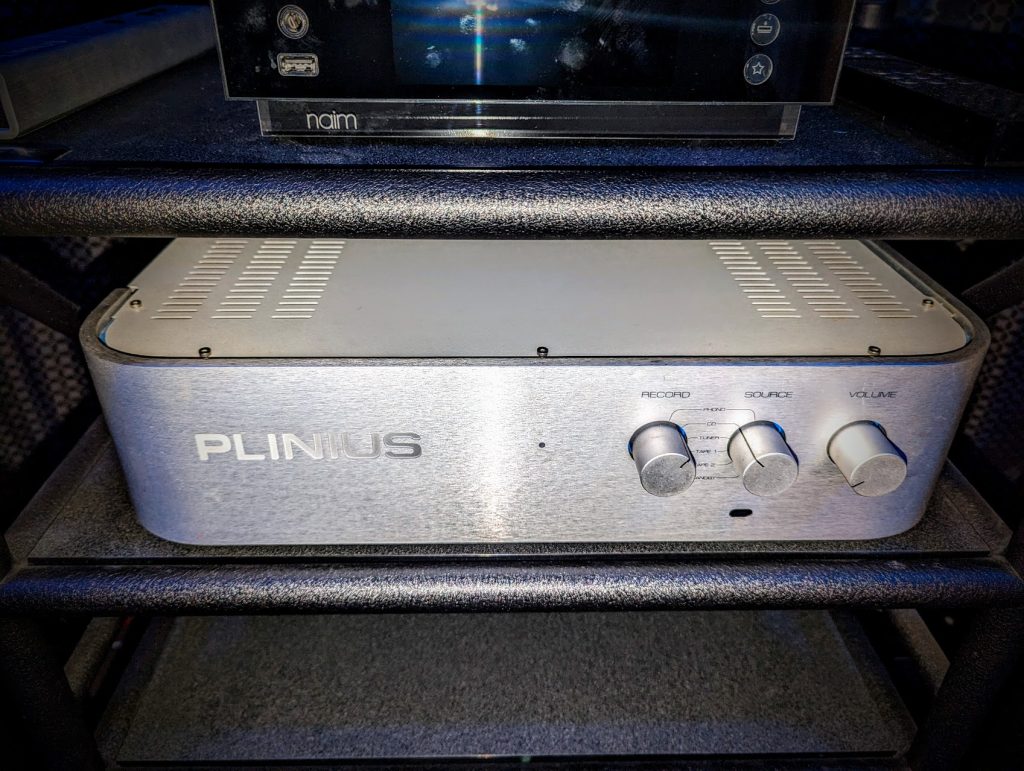 Plinius 9200 Solid State Integrated amp. Recently sent to Plinius for the following upgrades:
1) all electrolytic capacitors replaced with Nichicon Gold or MUSE audio grade caps
2) power supply caps are replaced with Nichicon or Cornell Dubilier low ESR versions
3) output device emitter resistors replaced with low inductance Mills resistors
4) main power supply rectifier replaced with 40 amp Schottky FRED low noise fast switching type
5) stage coupling capacitors replaced with Audience AuriCap XO
6) wiring from line amp stage to output replaced with shielded microphone cable with one end grounded
7) all relays replaced
8) Furutech Rhodium IEC connector
9) switches disassembled cleaned and lubricated
10) volume control cleaned

McIntosh D100 Digital Preamp
Frequency Response: +/-0.5dB from 4Hz to 20kHz +0.5/-3dB from 4Hz to 68kHz (source dependent) Total Harmonic Distortion: 0.0015% Rated Output Voltage: Fixed: 2.0 Vrms Unbalanced, 4.0 Vrms Balanced Variable: 0-8 Vrms Unbalanced, 0-16 Vrms Balanced Headphone Load Impedance: 20 to 600 Ohms Overall Dimensions (W x H x D): 17-1/2" (44.54cm) x 3-7/8" (9.8cm) x 16" (40.64cm) including the front panel, knobs and cables Weight: 13.5 lbs (6.1 kg) net, 28 lbs (12.7 kg) in shipping carton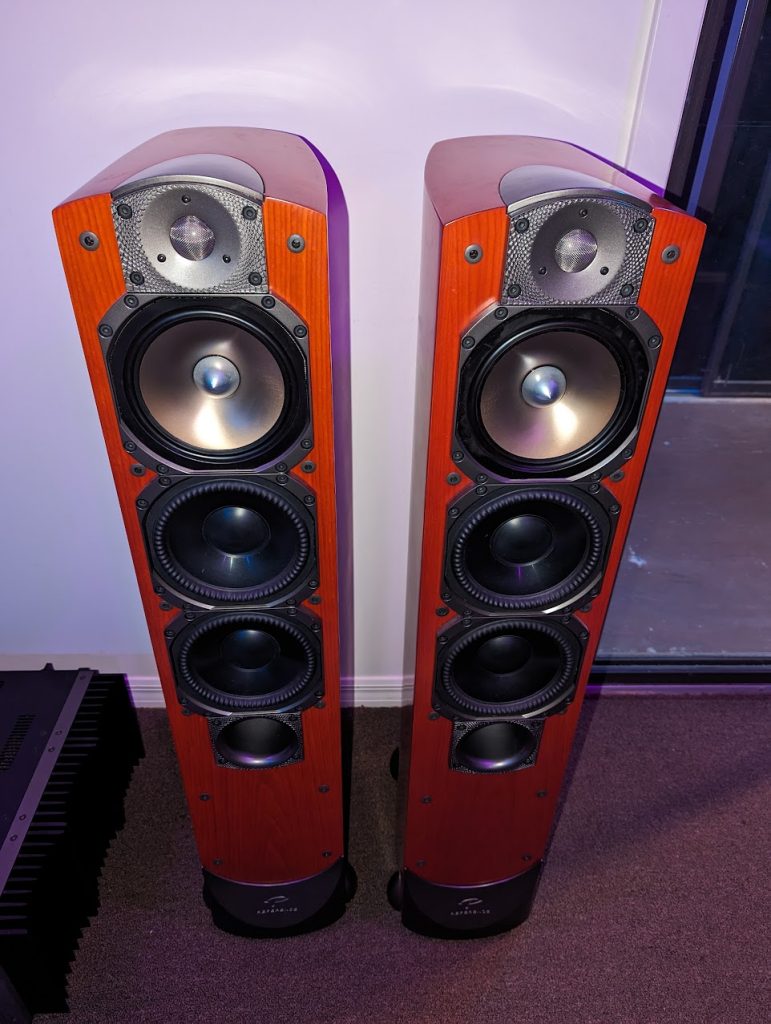 Near perfect condition.
Cherry Finish
High-Frequency Driver
25-mm (1 in) P-Be™ dome; ferro-fluid damped / cooled; rear damping chamber with ARB™ fins and integrated heatsink; dual super-neodymium ring magnets; die-cast heatsink chassis; IMS/SHOCK-MOUNT™
Midrange Driver
102-mm (4 in) Co-PAL™ cone; ferro-fluid damped / cooled; ATC™ chambers; 25-mm (1 in) dual-layer voice coil; dual superneodymium ring magnets; AVS™ die-cast heatsink chassis; IMS/SHOCK-MOUNT™
Bass Drivers
Two 178-mm (7 in) mineral-filled polypropylene cones; overmolded NLC™ surrounds; 38-mm (1-1/2 in) four-layer voice coils; massive hard ferrite magnets; AVS™ die-cast heatsink chassis; IMS/SHOCK-MOUNT™ Low-Frequency Extension* 30 Hz (DIN) Frequency Response On-Axis: ±2 dB from 46 Hz – 35 kHz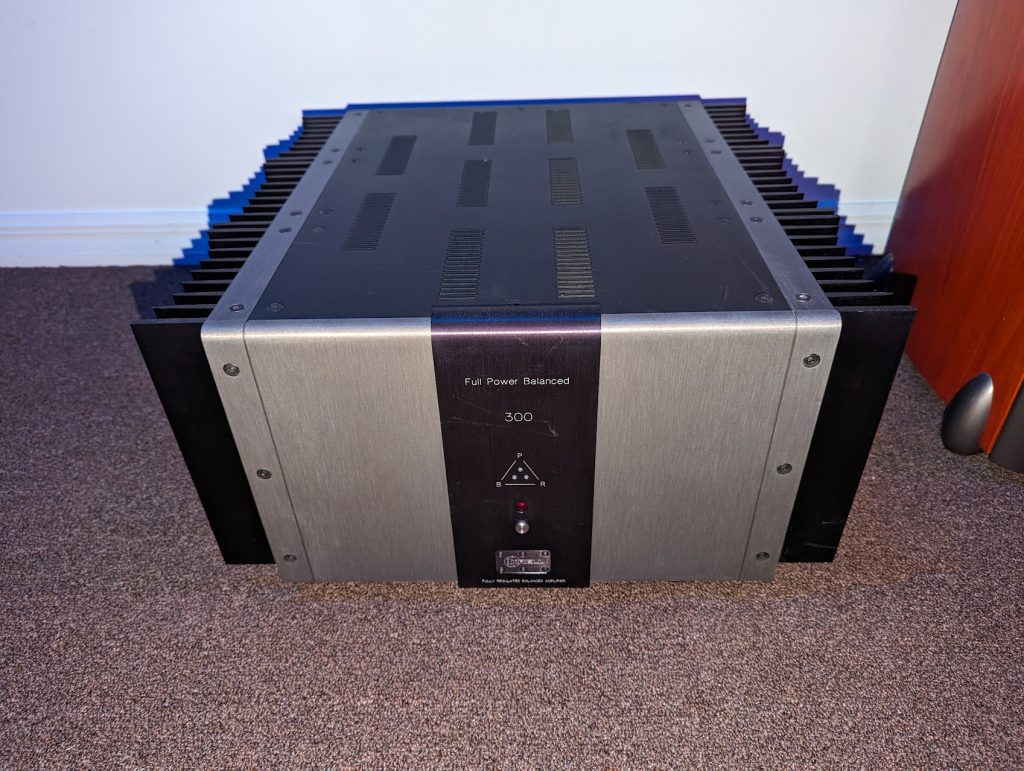 KRELL FPB-300 AMPLIFIER – CLASS A POWERHOUSE! 300W AT 8 OHMS – 1200W AT 2 OHMS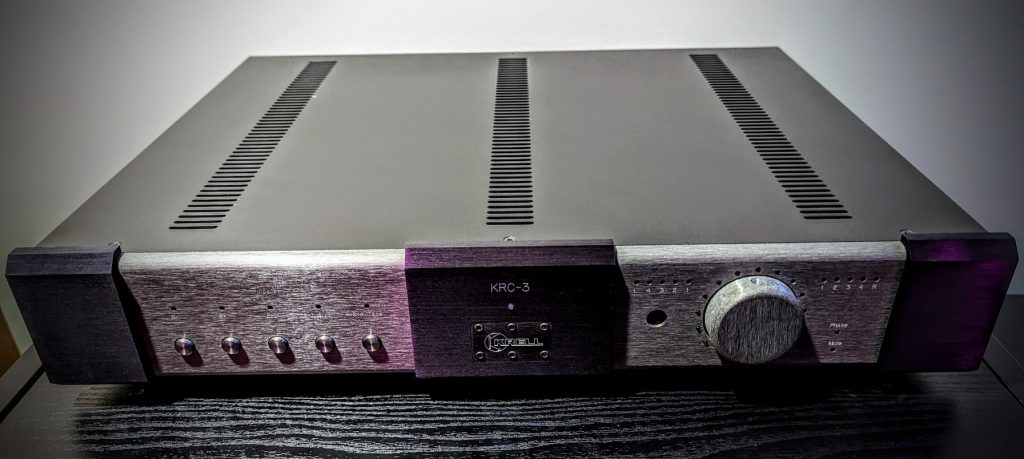 Krell KRC-3 Balanced Pre-Amp
SPECIFICATIONS:
Gain: 6.5dB single-ended; 12.36dB balanced
Frequency Response: 0.3Hz-300kHz, +0, -3dB; 20Hz-20kHz, +/-0.05dB
Input Impedance: 47.5kohms
Output Impedance: 15ohms
Output Voltage: 9V/18V RMS (single-ended/balanced)
THD: <0.009%, 20Hz-20kHz
S/N Ratio: >101dB, "A" weighted
Inputs: 1 balanced XLR, 4 single-ended/RCA
Outputs: single-ended tape and main/RCA; balanced main XLR
Dimensions (inches): 3.5x19x15.5 (HxWxD)
Weight: 22lb unpacked